It's over, (photo links above)
More Details
Less Details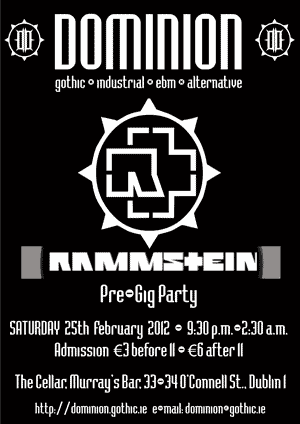 25th Febuary 2012 - Dominion Dublin warming up the Irish crowd before the first major gig this year Rammstein in the O2 on the 27th
DJs DeQuath aka Will Fox And Conor Connolly And Paul B.
Dominion, 33-34 O'Connell St. Upper, Dublin 1
doors opening to the public as usual 21:30, so get in early to get the most out of the night, there will be the usual Many Drinks Promotions & finger food for those in early
Admission €3 before 11PM, €6 After, open untill 2:30am
Check back here for updated information as the date gets closer and we confirm Details/anything else
Please come along and help support your scene.
Event url: https://dominion.gothic.ie/events/2012/02/4/
Facebook users event url: none yet
Add to Calendar
DJ Conor 9:30 - 10:00

Ministry - Golden Dawn
Revolting Cocks - Butcher Flower's Woman
Faderhead - Fuck What You Heard
Nine Inch Nails - All The Love In The World
Front 242 - No More No More
Scala And Kolacny Brothers - Engel
Laibach - In The Army Now


Girls Under Glass - Grey In Grey
Cut.Rate.Box - Synthetic
Bauhaus - She's In Parties
New Model Army - Purity
The Crüxshadows - Deception
Paradise Lost - Erased
The Birthday Massacre - In The Dark

DJ Paul B. 10:30 - 11:00

Rammstein - Benzin
Eisbrecher - 1000 Flammen
The Young Gods - Gasoline Man
ASP - Sing Child
Luxury Stranger - Empty Men
Rammstein - Frühling In Paris

DJ Conor 11:00 - 11:30

Einstürzende Neubauten - The Garden
Tool - Sober
Prick - Animal
Combichrist - I'm Happy Anyway
Big Black - Colombian Necktie
Skinny Puppy - Politikil
Rammstein - Te Quiero Puta!


Javelynn - Beat You
Accessory - Shout It Out (Take Your Ass On The Floor Mix)
Imperative Reaction - Surface
Nine Inch Nails - The Hand That Feeds
Marilyn Manson - mOBSCENE
VNV Nation - Legion
Covenant - Call The Ships To Port
Deathstars - White Wedding

DJ Paul B. 12:00 - 12:30

Rammstein - Ich Will
Eisbrecher - This Is Deutsch
ASP - Ich Will Brennen
Waiting In Vain - Awake Again
Korn - Get Up (Featuring Skrillex)
Rammstein - Das Modell
:Wumpscut: - Concrete Rage

DJ Conor 12:30 - 1:00

Depeche Mode - Stripped
KMFDM - Leid Und Elend
NorthBorne - Airsoul (Punch Mix)
Combichrist - Tractor
Aesthetic Perfection - Inhuman
IAMX - Spit It Out (Designer Drugs Remix Extended Version)


Celldweller - Frozen (Celldweller Vs. Blue Stahli)
Surgyn - Code Black
Uberbyte - Money Shot
And One - Body Company
The Cure - Why Can't I Be You?
Wolfsheim - Heroin, She Said
XP8 - Want It (Shiv-R Remix)

DJ Paul B. 1:30 - 2:00

Rammstein - Mein Teil
Korn - Let's Go
Skrillex - First Of The Year (Equinox) (R)
Fear Factory - New Breed
Cubanate - Oxyacetalene (R)
Deathstars - Blitzkrieg Boom
In Flames - Darker Times
Einstürzende Neubauten - Was Ist Ist
The Sisters Of Mercy - Alice


(W) Front 242 - Headhunter (V3.0)
(C) Rammstein - Engel
(W) Reaper - She Is A Devil And A Whore
(C) Nachtmahr (R) - Can You Feel The Beat?
(W) Hocico - Dog Eat Dog (Aesthetic Perfection Remix)
(C) Nine Inch Nails - Closer
Outro:
Zornik - Sonne