It's over, (photos linked above)
More Details
Less Details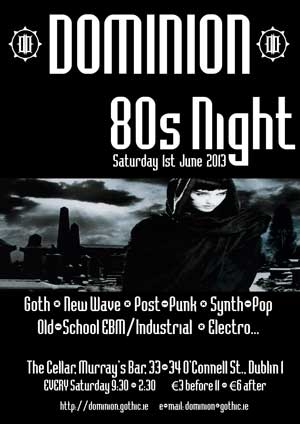 Dominion, 33-34 O'Connell St. Upper, Dublin 1
doors opening to the public as usual 21:30, so get in early to get the most out of the night, there will be the usual Many Drinks Promotions & finger food for those in early
Our promotions will be : €10 for 4 vodkas (free dash), till 11pm only, €10 for 3 bottles of Sol
Admission €3 before 11PM, €6 After, open untill 2:30am
Check back here for updated information as the date gets closer and we confirm Details/anything else
Please come along and help support your scene.
Event-link:https://dominion.gothic.ie/events/2013/06/1/
Add to: iCalendar : Facebook : Google +calander : Yahoo Calandar : Eventfull :
Tweet
DJ Conor 9:30 - 10:00

Tubeway Army - My Love Is A Liquid
The Human League - Circus Of Death
A-Ha - Manhattan Skyline
Fad Gadget - Ad Nauseam
Cabaret Voltaire - Sensoria
The Neon Judgement - The Fashion Party


Furniture - Brilliant Mind
Eurythmics - Love Is A Stranger
Phil Lynott - Yellow Pearl
Camouflage - The Great Commandment
Howard Jones - New Song
Depeche Mode - Get The Balance Right!
Ultravox - Dancing With Tears In My Eyes
New Order - The Perfect Kiss


ABC - Look Of Love
Talking Heads - And She Was
The Jesus And Mary Chain - April Skies
Talk Talk - Life's What You Make It
Public Image Limited - This Is Not A Love Song
The Smiths - What She Said
Television - See No Evil
Tears For Fears - Head Over Heels (Live Version)


New Order - Age Of Consent
The Hooters - Karla With A K
A Flock Of Seagulls - Space Age Love Song
Duran Duran - Planet Earth
Frankie Goes To Hollywood - Two Tribes
The Human League - Don't You Want Me
Depeche Mode - Just Can't Get Enough
Soft Cell - Tainted Love

DJ Conor 11:30 - 12:00

Propaganda - Dr. Mabuse
Camouflage - The Great Commandment (R)
Nitzer Ebb - Join In The Chant
Ministry - You Know What You Are
Deutsch-Amerikanische Freundschaft - Der Mussolini
Skinny Puppy - Assimilate
The Smiths - Bigmouth Strikes Again
The Pixies - Debaser (R)


Ryan Paris - Dolce Vita
Pet Shop Boys - Suburbia
A-Ha - The Sun Always Shines On TV
Depeche Mode - Master And Servant (R)
Orchestral Manoeuvres In The Dark - Electricity (R)
Fleetwood Mac - Everywhere (R)
The Smiths - Ask
Desireless - Voyage Voyage
New Order - Touched By The Hand Of God


Killing Joke - Eighties
Blondie - Hanging On The Telephone
Kim Wilde - You Keep Me Hangin' On
Bronski Beat - Smalltown Boy
Joe Jackson - Steppin' Out
Adam And The Ants - Prince Charming


Kraftwerk - The Model
A-Ha - Take On Me
Men Without Hats - The Safety Dance
Dead Or Alive - You Spin Me Round (Like A Record)
The Cure - Just Like Heaven
Joy Division - Love Will Tear Us Apart
The Cult - She Sells Sanctuary

DJ Conor 1:30 - 1:45

Falco - Der Kommissar (R)
Thomas Dolby - Hyperactive!
Billy Idol - White Wedding (R)
Eleven Pond - Watching Trees


Depeche Mode - It's Called A Heart
Duran Duran - Hungry Like The Wolf
Giorgio Moroder With Philip Oakey - Together In Electric Dreams
Erasure - Stop!


Pat Benatar - Love Is A Battlefield
Nine Inch Nails - Head Like A Hole
Siouxsie And The Banshees - Cities In Dust
A Flock Of Seagulls - I Ran (R)


The Chameleons - Swamp Thing
New Order - Blue Monday
The Primitives - Crash
The Cure - Inbetween Days