It's over, (photo and video links above)
More Details
Less Details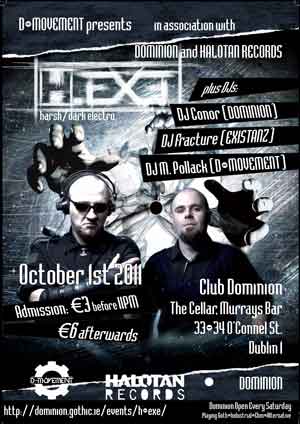 Thanks to the persuasion of Mariusz Pollack, H.EXE have been convinced to grace our club with there musical talents, for their first time in Ireland
Dominion + D'electro M'ovement presents: H.EXE (PL)
plus DJs: DJ Conor (Dominion), DJ Fracture (Existanz) & DJ M.Pollack (D-Movement)
Dominion, 33-34 O'Connell St. Upper, Dublin 1
doors opening to the public as usual 21:30, Admission €3 before 11PM, €6 After, even if you can't make the gig, come join us till 2:30am
Check back here for updated information as the date gets closer and we confirm Details/anything else
"The band's recipe for dark dancefloor music is simple: crushing beat, catchy melodies and vocals spanning across all stages of madness."
Everything you'd like to know about H.EXE is in here:
http://cyber-angels.nl/InterviewHEXE.html
H. EXE's 'Killing Monsters' reviewed by Jamie Monahan:
http://www.neuweltmusic.com/reviews_hexe.html

Videos:
Websites:
http://www.myspace.com/hexeweb
http://www.lastfm.pl/user/H-EXE
https://www.youtube.com/user/HEXEchannel
http://www.halotan.net/
Please come along and help support your scene.
Dominion event url: https://dominion.gothic.ie/events/2011/10/1/
Facebook users event url: https://www.facebook.com/events/231342270219970/
Add to Calendar
Tweet

Mechanical Cabaret - GBH (Real Horrorshow Remix)
Icon Of Coil - Headhunter (Exclusive Single Version)
Culture Kultür - Love Will Tear Us Apart
Manufactura - The Whore's Lullaby
And One - Second Voice (Teuer Mix)
Leæther Strip - No Disco
Nine Inch Nails - Sin
Steinkind - Deutschland Brennt (Radio Version)
Noisuf-X - Clubhit
Bodycall - Fools' Paradise (Harsh Mix)
Den C.T. Bug - Gotteskrieger (Funker Vogt Mix)
Covenant - Edge Of Dawn (Mix)
Terrorgazm - Rabid [Hatred]

H.EXE (Live Performance) 10:20 - 11:20

Setlist M.I.A.


:Wumpscut: - Torn Skin
Suicide Commando - Die Motherfucker Die (Modulate Remix)
Kant Kino - Behind The Wheel
Faderhead - The Bitch I Love To Hate (Feat. Chris Pohl)
Aesthetic Perfection - The Siren

DJ Conor 11:40 - 12:00

Necessary Response - Forever
Combichrist - Can't Change The Beat (Designer Drugs Remix)
Dream Disciples - Care Of The Devil
E Nomine - Mitternacht (R)
ADULT. - No Tears
Eisenfunk - Operation Teapot


Hocico - Fed Up
C/A/T - (Still) Dead To Me
Funker Vogt - Fire And Forget
Combichrist - Shut Up And Swallow (R)
And One - Sometimes (R)
Rotersand - War On Error (Declaration) (R)


VNV Nation - Control
Grendel - Chemicals + Circuitry
Nachtmahr - Katharsis
Phosgore - Red Red Krovvy ([X]-RX Remix)
[X]-RX - Stage 2
BlakOPz - It's Not Human (v2.0)

DJ Conor 1:00 - 1:20

Helium Vola - Omnis Mundi Creatura (R)
Nine Inch Nails - The Hand That Feeds
Imperative Reaction - Surface (R)
Aesthetic Perfection - Spit It Out (Grendel Remix)
Scandy - Just Human


Terrolokaust - No Control
Leæther Strip - Genetic Fuckup (Die Krupps Remix)
Project Pitchfork - Carnival (Die Krupps Remix)
Bodycall - Śmierć
Diary Of Dreams - The Plague
Santa Hates You - Deutschmaschine


Jay Harker - Bela Lugosi's Dead
Combichrist - They
VNV Nation - Beloved
Apoptygma Berzerk - Starsign


(C) New Model Army - Vagabonds (R)
(M) Klutæ - Electro Punks Unite
(F) Dawn Of Ashes - Torture Device
(M) Modulate - Revolution
(F) Faderhead - Dirtygrrrls/Dirtybois
(C) Amanda Palmer - Leeds United (R)